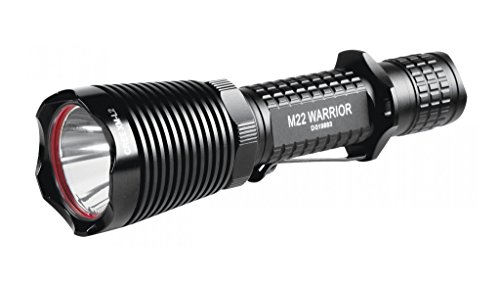 Olight is the newest Tactical Flashlight brand which are becoming very popular day by day. Not for only because of it's Quality products but also of after selling support/service which i like very much. Here, when i get a chance, I want to share my personal experience. I owned my first Olight M22 Warrior Led Tactical Flashlight almost 1 years ago. But I damaged my new Olight for mine fault. With lot of frustration, i sent flashlight for the servicing. Surprisingly, after couple of day they sent me new Olight M22 instead of damage tactical light.
With high quality features and affordable price, you cannot go wrong in choosing Olight M22 Warrior Led Tactical Flashlight. A wide flood-type beam and this light is a very good combination of both flood and throw. Long reaching beam couples with multiple modes option and durable frame give you ideal performance in any conditions. You can use it for every day carry (EDC) purpose too.
Olight M22 Warrior Led Tactical Flashlight Key Features:
Anti-scratch Black type

III

hard anodizing.
Aircraft-grade aluminum body.
From 20 to 950 lumens three brightness levels.
Strobe mode include.
Quick access directly to brightest level.
Last power setting can be restored because it have memory function to remember.
Nice polished stainless steel bezel.
Single-die CREE XM-L2 LED, highest-performing.
Three brightness levels from 20 to 950 lumens, plus a strobe mode.
Thermal management to avoid overheating.
To prevent improper battery installation it has reverse polarity protection.
Multi function clickable tail switch.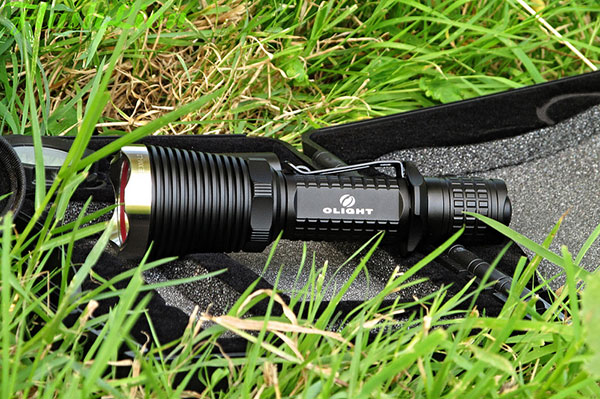 The thing which make the M-series so attractive is its availability of family of accessories. Its combined effect of efficiency and power make it an ideal suit for law enforcement agencies, security guards, military men and hunters. A special red sealing O-ring is used for the glass lens in M22 flashlight. It is cut in C shape and seals the glass from sides and front back position. Olight M22 Warrior Led Tactical Flashlight carries the tactical standard and have set out the standard for other Tactical LED flashlights for years. A forward-motion tail switch is installed for single-handed operation. The crenelated striking bezel made of stainless steel and hard aluminum made body is anodized for military specifications. The diffusivity and weapon mounts add to the device versatility. It also provide best impact protection. Due to its potentialities, it can be used for self-defense and other tactical purposes.
For a professional use, a combat tactical grip ring can be used accompanied pistol grip techniques like FBI, cigar hold and Harries. The light performance complementing is a powerful and validated housing. The lightweight made aluminum, IPX8 rated housing is submersible to 6.6 feet for 30 min with the impact resistance of 6.6'. A black stainless steel bezel provide an extra level of layer for self-protection.
In high mode the Olight M22 produces 950 Lumens, while in low mode of 20 lumens the runtime of this tactical beast approaches to 30 hours. The beam can be projected up to 305 meters with installed smooth reflector, also healthy peripheral illumination is maintained. The mode selector is used to easily access the strobe function and three outputs. The Olight M22 has the intelligence to automatically memorize the last output level. The fins are designed in sloped shape to avoid sharp edges. The overall body of the flashlight is made free of bad edges.
The Olight M22 features included a high efficiency drive circuit, large heat sink, diffuser, Holster, Spare O-ring, Spare Rubber Boot, Battery magazine, Manual and a warranty card.
Specifications of Olight M22 Warrior Led Flashlight:

Maximum throw distance: 305 meter
Switch location: Tailcap
Product Certification: ANSI, IPX-8
Reflector: Smooth Reflector
Lens: glass ultra-clear anti-reflective coated lens
Waterproof: IPX8
Impact Resistance: 2m
Warranty: 5 years Olight warranty
Return Policy: Battery junction return policy
UPC: 6950723812326
MPN: M22-WARRIOR
LED: Cree XM-L2
Charger: Rechargeable
Light source: LED
Model Number: Olight M22
Battery Type: 2xCR123A OR 1×18650 Rechargeable Battery
Color: Black
Function: 2-4 files
Flashlight type: Hunting, mounting, camping.
Runtime:
Low: 20 lumens for 30 hours
High: 950 lumens for 1 hour
Medium: 250 lumens for 3 hours
Highest beam intensity: 23256 candela
Dimensions of flashlight:
Length: 144 mm or 5.67"
Weight: 5.15 ounces
Diameter: 41 mm or 1.61"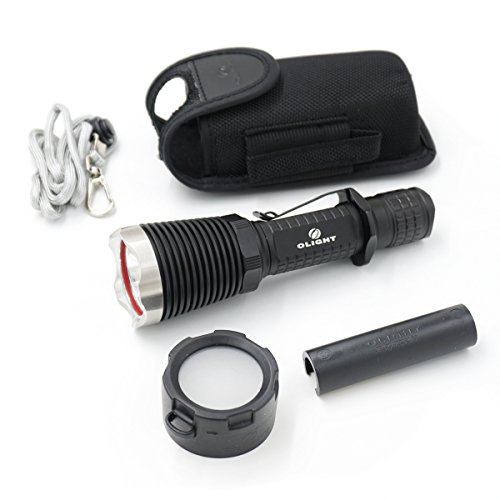 Customer Reviews
Let's talk about the lumen. The flashlight has highest setting of 950 lumens. From my personal experience, olight always provide what they say on their features. The rechargeable batteries will burn after 8-12 hours on low mode setting, 1 and half hour on medium mode and 1 hour on highest mode. For daily use it is the perfect flashlight, actually i liked it finishing very much. If it unable to fit on your belts then it has flexibility that you can cut off the loop and slots to make fit with your belt. I have used lot of flashlight but Olight M22 Warrior Tactical Flashlihgt is one of best among them.
Pros and Cons
Pros
Good spill and flood
Easy strobe mode
Impact resistance to 6.6`
To prevent overheating heat dissipated fins are used
Multicoated anti-flog lens window
Over heat protection and reverse polarity to avoids damaging
Cons
No output can be selected one-handed
Conclusion
The Olight M22 Warrior Tactical Flashlight is trustworthy, as well as has the honor of carrying the tradition into another quality generation flashlight. This flashlight has incredible output. Versatility to boot, intuitive interface and a rugged solid duty light.